This page is a work in progress, but will eventually serve as a central hub for stories, logs, and artwork submitted by Starmourn's playerbase.
Scare the Storytellers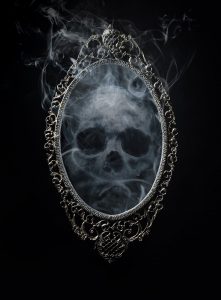 In October of 2020, the Starmourn team launched what they hope will be the first in a yearly tradition of Halloween writing contests. The goal of this contest is to bring a little spine-tingling space horror to the universe during the spookiest month of the year, along with letting players contribute their own creative twists to the game's lore.
This year's contest asked for players to come up with a frightening story whispered about by members of their character's race. The winning entries described a mysterious Ry'nari plague, a Human shadow nightmare, and a Jin necromancer, respectively.
The following stories should be considered, if not true, at least canon.
WINNER, OCTOBER 2020: Kass Stareater – SM-SKR-03: "Rust"
RUNNER UP, OCTOBER 2020: Victoria T'rvati – The Shades of Callisto
RUNNER UP, OCTOBER 2020: Mairon T'rvati – Annavara, the Deathless